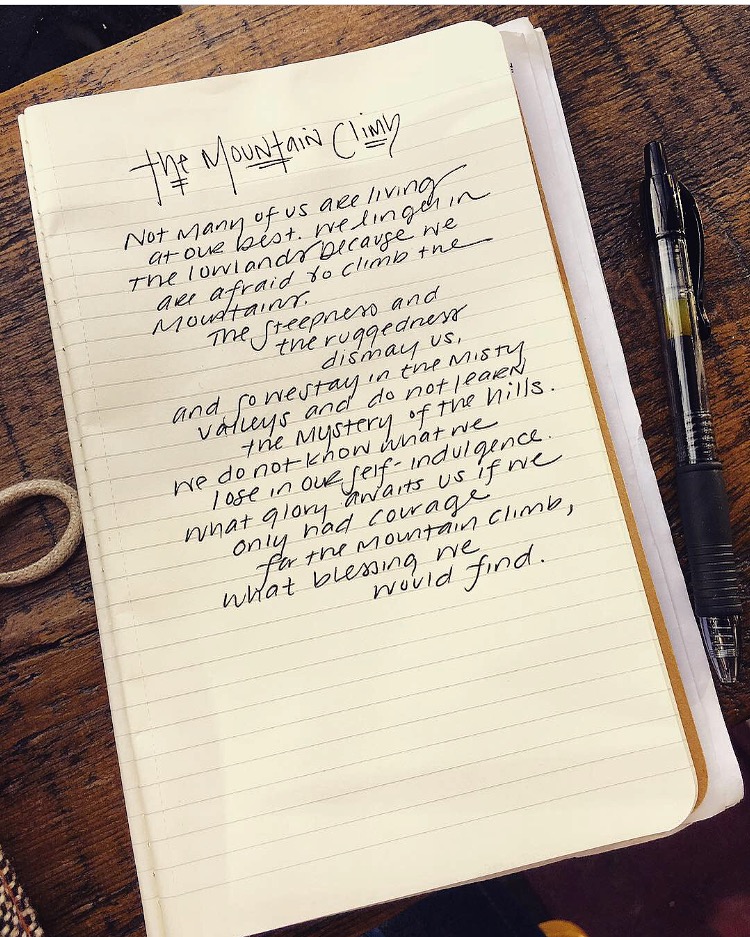 The other day I woke to a Facebook message from a dear HS friend I haven't talked to in ages. She and her friends were all hunkered down, riding out Hurricane Matthew together for a solid 24 hours, relishing the gift that is Southern community, and she'd escaped to find a quiet space to spend some time along with God. 
Digging through her Bible, she found one of her staple bookmarks: A tattered and worn little note she'd saved since our senior year of high school, with a classic old quote we'd spoken about numerous times, written in my handwriting. She snapped a picture and sent it back to me, reminding of the powerful words I didn't realize I so desperately needed … 
||
the mountain climb
Not many  of us are living at our best.
We linger in the lowlands, because we are afraid to climb the mountains. 
The steepness and the ruggedness dismay us,
and so we stay in the misty valleys and do not  learn 
the mystery of the hills. 
We do not now what we lose in our self-indulgence.
What glory awaits us if we only had courage
for the mountain climb,
oh what  blessing we  would find.
–  Cowan, Streams in the Desert
||
Her words couldn't have come at a more perfect time…
The lowlands are real right now. The ruggedness of the steps in front of me – some I can plainly see and some I'm not even sure are there yet. The lingering I've let my flesh keep me in and the longing for the rich mystery laying in those hills. All of it is at the forefront of life right now.
Oh the treasure it is to rest in the God who not only knows those steps, but who made that very mountain; the one who uncovers the misty mystery with every faithful step we take, asking only our hand of trust to cling to His as we climb. What a gift. 
||
So, sweet Ruthie, please know the depths of gratitude in my heart for your note. Thank you for making the time to share with me your worn and tattered, precious bookmark along with your prayers for me! My heart needed those words more than I knew! Thank you for your continued friendship, your heart of encouragement, and your faithful choice to love Jesus with your life day in and day out.