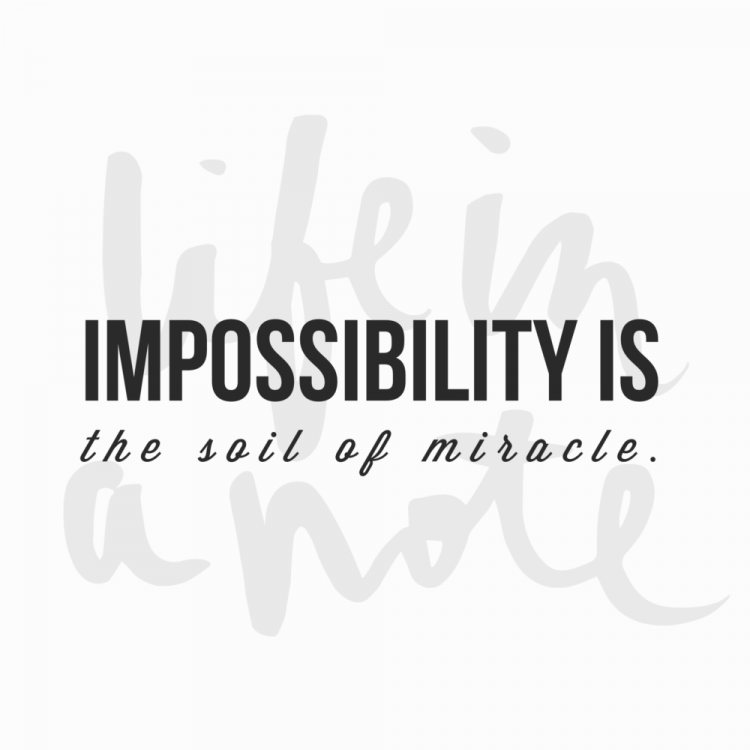 One of my all-time-favorite bundle of words.
If something awesome occurs in a space where it's expected, no one is surprised. Delighted maybe, but not blown out of the water by the enormity or beauty or straight-up unbelievability of the thing.
If however, that thing is grown in space where it was only ever previously hoped for, only ever dreamt of and longed wildly for, yet always seen in light of a someday || somehow || most likely never happening possibility …
 
 || there lies the stuff of miracles.

So often, I'm guilty of praying without hope, hoping without faith, believing without conviction. I know miracles are possible, but I forget that in order for the unbelievable to happen, the very stuff of my prayers must be more than I can imagine. 
Jossy Chacko, Founder and President of Empart INC., said it beautifully this past week at the Global Leadership Summit:
---

We must not let
the practicalities of life
out weigh heavenly possibilities.
---
Amen to knowing 
that the impossibilities of life
are the possibilities of prayer.